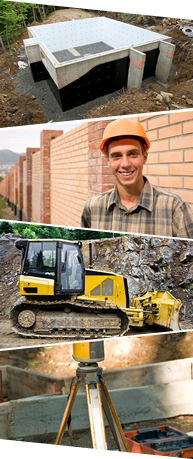 Local Yard / Exterior Contractor Services
Beautiful landscapes and well kept yards don't just happen on their own. In many cases, they're kept in pristine condition by land and yard contract professionals. These professionals have similar jobs to landscapers in the sense that they make the land beautiful. The difference is that land and yard contract professionals focus on not only make the land look gorgeous and stay healthy but also come on a regular basis as per their contract.
Contract professionals are hired to maintain the yard and keep it in it's best condition. This not only includes services such as cutting the grass but also includes using pesticides and organic growth supplements that give the grass the nutrients it needs to grow thick and lush. Depending on the needs of the customer and the specific needs of the yard, land and yard contract professionals will maintain the grass as often as either requested or required.
Some land and yard contract professionals may also do garden work including trimming hedges, watering flowers, and cutting off dead limbs from trees. This is not generally included in the work that contract professionals do but may be offered by companies that also specialize in landscaping.
From Our Blog:
Adding A Pond To Your Landscaping
There is, perhaps, nothing more soothing and peaceful than the sound of moving water or the sight of a still pond or lake as the sun sets. You can achieve this soothing concept in your own backyard when you add a pond to your landscaping. If you have a beautiful outdoor living space and you want to spice it up with a new feature, a pond can be the perfect addition to a beautifully landscaped... Continue Reading
Welcome new companies!
Inman Fence in Lebanon, OH
Orange County Fence CO Inc. in Anaheim, CA
James Smith Lawn & Carpentry Services in Pensacola, FL
J C Backhoe Service in Decatur, TX
Phillips Leonard in Fostoria, OH
Andrew Fencing in Brooksville, FL
Walter W Anton Contractor in Lockhart, TX
J Doyle Backhoe Service in Gloucester, MA
Frisco Fence & Construction in Piedmont, OK
Ace Fence & Deck LLC in Newark, OH
Pioneer Fence & Deck CO in Sedalia, CO
Lechner's Excavating Inc in Jasper, IN
J P Construction in Three Rivers, TX
Forrester Fence CO in Brooklyn, NY
Taylor Backhoe Service in Atwater, CA