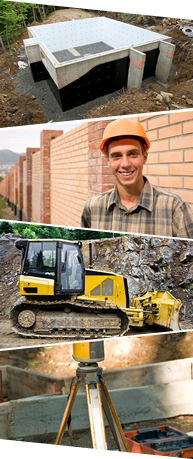 Local Yard / Exterior Contractor Services
Beautiful landscapes and well kept yards don't just happen on their own. In many cases, they're kept in pristine condition by land and yard contract professionals. These professionals have similar jobs to landscapers in the sense that they make the land beautiful. The difference is that land and yard contract professionals focus on not only make the land look gorgeous and stay healthy but also come on a regular basis as per their contract.
Contract professionals are hired to maintain the yard and keep it in it's best condition. This not only includes services such as cutting the grass but also includes using pesticides and organic growth supplements that give the grass the nutrients it needs to grow thick and lush. Depending on the needs of the customer and the specific needs of the yard, land and yard contract professionals will maintain the grass as often as either requested or required.
Some land and yard contract professionals may also do garden work including trimming hedges, watering flowers, and cutting off dead limbs from trees. This is not generally included in the work that contract professionals do but may be offered by companies that also specialize in landscaping.
From Our Blog:
Installing A Fence Around Your Yard
Installing a fence around your yard is a great way to improve the security of your home or to take care of children and pets that use your backyard as a living area. Fences can be a beautiful addition to a backyard and can offer privacy from neighbors or from heavy traffic areas. A fence can also be used to keep pets safe from other intruding animals, and can provide peace of mind for parents.... Continue Reading
Welcome new companies!
Lexington Professional Fence in Lexington, KY
American Fence in Topeka, KS
Soul Fencing in Memphis, TN
Green Mountain Ornamental Iron in Englewood, CO
Dogwatch Hidden Fences in Lancaster, OH
Duratek Wall Corporation in Tarpon Springs, FL
AAA Fence CO in Santa Clara, CA
Contractors Backhoe Service in Santa Barbara, CA
Calandriello BROS Lawn Maintenance Bobcat & Backhoe Service in Red Bank, NJ
Texan Construction in Fort Worth, TX
R W Jacobson-General Engineering in Riverside, CA
Stevener's Backhoe Service in Marcy, NY
McConnie Fence in Clearwater, FL
Heard Fences in Dover, FL
Beck Brothers Oilfield Service Inc in Beeville, TX