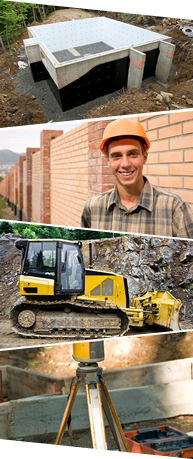 Local Yard / Exterior Contractor Services
Beautiful landscapes and well kept yards don't just happen on their own. In many cases, they're kept in pristine condition by land and yard contract professionals. These professionals have similar jobs to landscapers in the sense that they make the land beautiful. The difference is that land and yard contract professionals focus on not only make the land look gorgeous and stay healthy but also come on a regular basis as per their contract.
Contract professionals are hired to maintain the yard and keep it in it's best condition. This not only includes services such as cutting the grass but also includes using pesticides and organic growth supplements that give the grass the nutrients it needs to grow thick and lush. Depending on the needs of the customer and the specific needs of the yard, land and yard contract professionals will maintain the grass as often as either requested or required.
Some land and yard contract professionals may also do garden work including trimming hedges, watering flowers, and cutting off dead limbs from trees. This is not generally included in the work that contract professionals do but may be offered by companies that also specialize in landscaping.
Welcome New Companies:



Howard's Backhoe Service



Owner/Operator Licensed and Fully Insured License # 726185 We specialize in all phases of underground construction....



Wildomar, CA
Latest Reviews:



Texas Craftsman Fencing in Tyler, TX
from Loye beene
I called an within 2 hours came out to give bid to repair back fence which was sagging badly! 3 days later came an restored my back fence using metal...Details
From Our Blog:
Repairing or Replacing a Wooden Deck
The sun is shining, the air is warm and there is a few hamburger patties waiting to be grilled. The only problem, your deck is full of slivers and you don't even like to stand out there to grill, let alone sit down to eat. It sounds like it is time to repair or replace your deck so it becomes safe and usable for you and the entire family. A deck can be a great house foundations project that... Continue Reading
Welcome new companies!
Dependable Fence CO in Daytona Beach, FL
James & Son Bobcat Work in Joshua, TX
Elliott Fencing CO in Clarksville, VA
V M Custom Fence in Houston, TX
Grand Fence CO in Los Angeles, CA
Hartman Roy Fencg Contractors in Milford, OH
J & R Fence Inc in San Mateo, CA
Hess Fence Supply LLC in Centerville, IN
All In One Fence Co LLC in Orlando, FL
Unseen Fencing of Kentucky LLC in Elizabethtown, KY
Woods DC Excavating Inc in Wrightsville, PA
Stewart's Backhoe Service in Exeter, MO
Midwest Fence in Coffeyville, KS
D & D Backhoe Plumbing-Heating in Portales, NM
American Fence CO in Bay City, MI