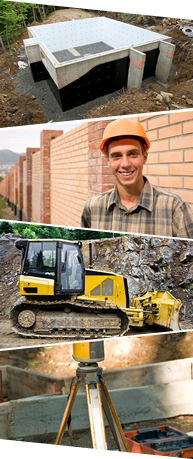 Local Yard / Exterior Contractor Services
Beautiful landscapes and well kept yards don't just happen on their own. In many cases, they're kept in pristine condition by land and yard contract professionals. These professionals have similar jobs to landscapers in the sense that they make the land beautiful. The difference is that land and yard contract professionals focus on not only make the land look gorgeous and stay healthy but also come on a regular basis as per their contract.
Contract professionals are hired to maintain the yard and keep it in it's best condition. This not only includes services such as cutting the grass but also includes using pesticides and organic growth supplements that give the grass the nutrients it needs to grow thick and lush. Depending on the needs of the customer and the specific needs of the yard, land and yard contract professionals will maintain the grass as often as either requested or required.
Some land and yard contract professionals may also do garden work including trimming hedges, watering flowers, and cutting off dead limbs from trees. This is not generally included in the work that contract professionals do but may be offered by companies that also specialize in landscaping.
Welcome New Companies:



Concrete Walls of Texas



We build concrete wall systems including the following: fences, barns, detached garages/ carports, outdoor BBQ pits, demising walls, fire walls, outdo...



Houston, TX
Latest Reviews:



Rick Kottke's in Lake Crystal, MN
from Jack Fortny
Outstanding, Quality driven company, promised as delivered beautiful tongue and groove 6' vinyl privacy fence, very happy! Great product and installat...Details
From Our Blog:
How To Fertilize Your Lawn
A well-maintained and expertly cared for lawn can improve the curb appeal of your house and make your outdoor living area much more beautiful. Often, the entire image of a house can be destroyed by an ugly, sparse, or scorched lawn or yard. A house, on the other hand, with a bright green and lush yard will attract positive attention. A lawn can also be a place of sanctuary and retreat. When... Continue Reading
Welcome new companies!
Mid-Michigan Fence Company Inc in Battle Creek, MI
Alamo Backhoe Service in San Antonio, TX
Bryan Fence CO in Paris, TX
Baby Guard Pool Fence in Plano, TX
Collins Backhoe Service in Blairsville, GA
Griffin Construction in Bulverde, TX
Austintown Fence CO Boardman Township in Youngstown, OH
Allen Tomasini Backhoe Service in Santa Ynez, CA
M E CO in Beverly Hills, CA
Gibralter Fence CO in Keithville, LA
Con-Lee Equipment Rental in La Habra, CA
Randle Cherry Backhoe Service in De Kalb, TX
Banks Excavating CO in Clarkston, MI
Bob Kimbel Inc in Shelton, WA
Mark's Ornamental Iron in Grass Valley, CA