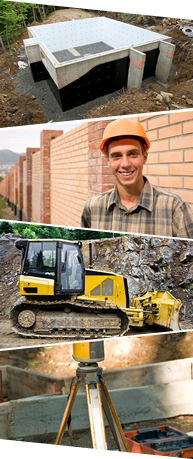 Local Yard / Exterior Contractor Services
Beautiful landscapes and well kept yards don't just happen on their own. In many cases, they're kept in pristine condition by land and yard contract professionals. These professionals have similar jobs to landscapers in the sense that they make the land beautiful. The difference is that land and yard contract professionals focus on not only make the land look gorgeous and stay healthy but also come on a regular basis as per their contract.
Contract professionals are hired to maintain the yard and keep it in it's best condition. This not only includes services such as cutting the grass but also includes using pesticides and organic growth supplements that give the grass the nutrients it needs to grow thick and lush. Depending on the needs of the customer and the specific needs of the yard, land and yard contract professionals will maintain the grass as often as either requested or required.
Some land and yard contract professionals may also do garden work including trimming hedges, watering flowers, and cutting off dead limbs from trees. This is not generally included in the work that contract professionals do but may be offered by companies that also specialize in landscaping.
Welcome New Companies:



Strong Fence and Deck



Looking for the best fence company in Plano? Strong Fence and Deck is the right place for your needs of cedar fences, wood fences, patio covers, and g...



Plano, TX
Latest Reviews:



Good Neighbor Vinyl Fence CO in Saint Louis, MO
from vinyl fencing dude
Looks like a good place to get your vinyl fencing . Is there a similar place in Cali? I''d love to know. http://www.finylvinylbp.com...Details
From Our Blog:
Choosing Between Wood Or Aluminum Fencing
After you have lived in your house for four, five or even a few years more, and plan on staying there for many more years, then it might be time to invest in some house foundations projects. These projects have a little more meat to them than just cosmetics. The first couple of years you are in a house are spent painting and getting the decorating scheme just right. Once you pass those first few... Continue Reading
Welcome new companies!
Brack Excavating in Dodge City, KS
Dave SUDA Landscape in San Diego, CA
Moree's Dozer & Excavating in Slidell, LA
USA Fence in Sacramento, CA
Property Line Fencing in Violet, LA
Chaney Excavating in Rockford, MI
Neathery Excavation & Dozer Service in Bonham, TX
SHANE HENSHAW in Madison, VA
Ronnie Rogers Backhoe & Dozer in Locust Grove, OK
Ball Cat & Backhoe Service in Sweet Home, OR
Ornamental Iron Designer in Lake Forest, CA
Calder Fence CO in Winston Salem, NC
De Nickholson Plumbing Repair And Backhoe Service in Worton, MD
John K Cole Backhoe Service Inc in Fairview, TN
A Decorative Fence in Pequannock, NJ