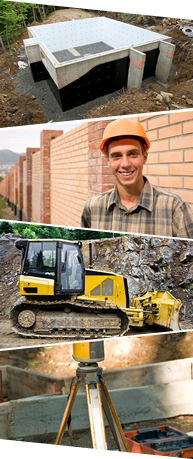 • Featured Contractors •
Creative Fence CO in Arroyo Grande, CA
Woods Tree & Lawn Service in Toledo, OH
Barwick Backhoe & Grading in Deep Run, NC
Spring Valley Lawn Care & Landscaping in Wellsville, PA
ABS Landscape & Maintenance in Fremont, CA
R B Metalworks in Palmetto, FL
Wisdom's Well Drilling in Russell Springs, KY
Gatemasters Distributing Inc in Plant City, FL
Brian's Backhoe Service in Grand Junction, CO
Legacy Home Builders LLC in Kennewick, WA
Vern's Dozing in Olympia, WA
Ashlan Wood Treaters in Dallas, TX
Rodrigo Medina Fencing in Bryan, TX
Abernethy Fence CO in Amarillo, TX
PAMF Construction in Fall City, WA
Excavating Services and Contractor List
Before any sort of construction can be done, the earth needs to be removed from the site. Excavation contractors remove land and rocks from given locations so that the construction can be started. Whether land needs to be flattened, a hole needs to be dug, or large rocks need to be removed, excavation contractors are the ones who get the job done.
Most contractors will have their own equipment so they can be fast and efficient in their work. The equipment they use is large construction vehicles. The specific vehicles they use are bulldozers, milling machines, and gravel trucks. These trucks are used to removal as well as digging and destroying rocks. Explosives may also be used by excavation contractors for jobs that are not able to be done by machinery.
Contractors are generally used for large projects such as shopping centers and residential communities. They can also be used for state projects such as paving the way for roads to be put in and leveling land for parks and community centers. Contractors create the foundation, or building pad, for which a building will be placed on. Some excavation contractors will also do the paving for large projects.
Advanced Search: