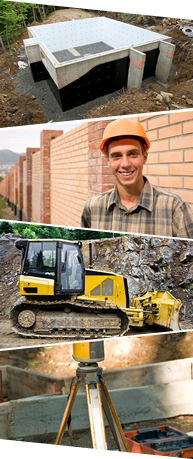 Local Yard / Exterior Contractor Services
Beautiful landscapes and well kept yards don't just happen on their own. In many cases, they're kept in pristine condition by land and yard contract professionals. These professionals have similar jobs to landscapers in the sense that they make the land beautiful. The difference is that land and yard contract professionals focus on not only make the land look gorgeous and stay healthy but also come on a regular basis as per their contract.
Contract professionals are hired to maintain the yard and keep it in it's best condition. This not only includes services such as cutting the grass but also includes using pesticides and organic growth supplements that give the grass the nutrients it needs to grow thick and lush. Depending on the needs of the customer and the specific needs of the yard, land and yard contract professionals will maintain the grass as often as either requested or required.
Some land and yard contract professionals may also do garden work including trimming hedges, watering flowers, and cutting off dead limbs from trees. This is not generally included in the work that contract professionals do but may be offered by companies that also specialize in landscaping.
Welcome New Companies:



J&J Environmental, Inc



We have been providing local environmental services oil tank removal to oil spill clean up and more for over 40 years to county, state, government, to...



East Norriton, PA
Latest Reviews:



Priceville Contractors Inc in Decatur, AL
from A
done a great job on my driveway ,the turn out of my drriveway went past my what i expected .it's beautiful. Thanks Priceville Contractors Inc....Details
From Our Blog:
House Foundation Maintenance
There are many different projects associated with home maintenance. Keeping your home carefully maintained will preserve the value of your home and make it possible for you to resell your home for a higher price than you bought it. Also, carefully maintaining your home will prevent you from having to spend thousands of dollars on costly home repairs that can result from damage caused by... Continue Reading
Welcome new companies!
Grand Rapids Fence Inc in Grand Rapids, MI
Craig Templin in Triadelphia, WV
A Fence for Less in Crownsville, MD
Nelson Digging Service in Parker, AZ
Marchio Fence CO Inc in Joliet, IL
Quality Fencing in Amarillo, TX
Gammill Welding & Construction in Madill, OK
Olympic Fence in La Mesa, CA
Miller's Backhoe & Excavating in Fruitport, MI
Service Tech Fencing in San Jose, CA
Professional Fence Inc in Terre Haute, IN
Allied Fence CO in Manor, TX
Chads Fencin in Abilene, TX
GP Plumbing Experts in Grand Prairie, TX
Tony Filipi Backhoe Service in Warren, MN