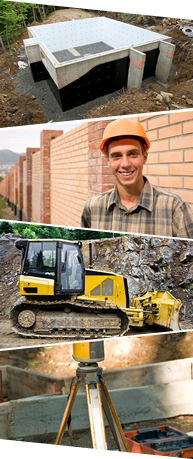 • Featured Contractors •
Hutton Inc in Elk City, OK
Mc Alester Cnstrctn & Fence in Pittsburg, TX
Island Backhoe Inc in Lemoore, CA
Wiley Backhoe Service in Kilgore, TX
Hazen Fence & Stove in Granby, CT
Ryder's Backhoe Inc in Chambersburg, PA
Merker Ornamental Iron Inc in Dayton, OH
Southland Tractor Inc in hesperia, ca
East Bay Ornamental Iron in San Lorenzo, CA
North American Fencing Corp in Cheswick, PA
Master-Halco Inc in Jackson, TN
Carpenter's Home Repair & Fencing in Florence, CO
Chapman Fence CO in Jefferson, GA
Crown Vinyl Fence & Shed Inc in Salt Lake City, UT
Garrett Excavating in Marion, IL
From Our Blog:


House Foundation Maintenance

There are many different projects associated with home maintenance. Keeping your home carefully maintained will preserve the value of your home and make it possible for you to resell your home for a higher price than you bought it. Also, carefully maintaining your home will prevent you from... Continue Reading
South Carolina Backhoe / Bulldozer Service Directory
Click on a backhoe / bulldozer service name for further information.
Benton's Backhoe Service
Lancaster, SC

Our specialties include all types of work, always free estimates, chipping & grinding, garden pond...

Sawyer Construction
Marion, SC

S.c. state licensed in:paving, concrete, grading, water, sewer. We accept licensed & insured fo...

Smith's Backhoe Service
Walterboro, SC

We can assist you with digging, drainage systems, estimates, fittings, installation, repairs an...

Hardwick's Backhoe & Septic
Loris, SC

We can assist you with repairs.

Mincey Tree Service Inc
Nichols, SC

We accept licensed & insured for payment. Our specialties include bucket trucks, free estimates...

ENVIRO SAFE SEPTIC SERVICE
Spartanburg, SC
C & M Backhoe Service
Greenwood, SC
Hood Terry Plumbing & Electrical Service
Bethera, SC

Certified dehec backflow tester. Our preferred brands include residential. Our specialties includ...